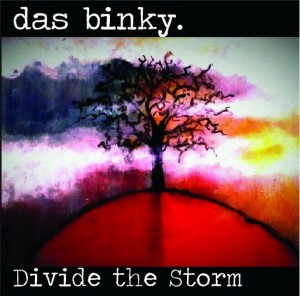 Visit the Store to pick up your copy today!
Featuring 15 tracks written over three years, "Divide the Storm", the debut album from the Das Binky Recording Collective, is an eclectic collection of songs spanning multiple genres and moods, from sardonic pop to longing folk, from inflammatory metal to aggressive electronica to alternative rock.
Framed as a concept album about the impacts of living under the umbrella of American culture in the new millennium, "Divide the Storm" touches on themes of discomfort, alienation and the failure of the American Dream juxtaposed on, and unified by, a catchy pop mindset. The songs aim to lodge themselves into your head, comment on our modern lives, and take you on a guided tour through Das Binky's assimilated influences.
John Das Binky, Jordan Hirsch, and John Crossman lead the vocal efforts of an ensemble cast of musicians spanning four different countries and many different skill sets, each adding different flavors to the overall pop sound of the album. All of the music was written as part of February Album Writing Month (FAWM) or its sister project, 50/90, and the communities therein helped shaped the album's vision.
The album is available in both "Explicit" and "Clean" versions.
Tracks
1. My Country Tis of Me
2. Violent Agreement
3. Up My Dosage
4. Utopia
5. Falling Slowly
6. Science Fiction / Fantasy
7. Global Mega Omni Corp
8. White Collar Suicide (Explicit Release Only)
9. The World Just Doesn't Really Care
10. Divide the Storm
11. (I am a) Genius of Unspeakable Evil
12. Awakening Bethlehem
13. Sorry for You
14. The United States of @#!*% You (Explicit Release Only)
15. One Heart (Clean Release Only)
---
For this album, The Das Binky Recording Collective is:
John Das Binky – All Vocals, Guitars, Bass, Keyboards, Drums, Banjo, Mandolin, Ukulele except:
Jordan Hirsch – Lead Vocals (1, 4, 10), Backing Vocals (1, 2, 4, 10,14)
John Crossman – Lead and Backing Vocals (13), Backing Vocals (14)
Tyler Goen – Keyboards (7, 11), Drums (7)
Kristian Børresen – Keyboards / Drums (12)
Valerie Cox – Backing Vocals (5, 14)
Nancy Rost – Piano (10), Accordion, (1), Backing Vocals (14)
Deb Isaac – Backing Vocals (11, 14)
Peter Watkinson – Guitars / Drums / Backing Vocals (14)
Jake Johnson – Keyboards (9), Effects (12)
Lucia Das Binky – Vocals (15)
Beth Kille – Backing Vocals (7, 14)
Mat Leffler-Schulman – Percussion (3, 14)
The FAWMStock Yellers – Backing Vocals (14)
The vast majority of this album was recorded in the Das Binky Man Cave, except for contributions from the non-John folks above, who recorded in their own respective bedrooms, living rooms and wo/man caves. Independent Music from our bedrooms to yours.
Click to view liner notes.